Kamehameha
(亀破波, かめはめは, "
Turtle Devastation Wave
", "
Turtle Destruction Wave
") is a powerfull energy attack that Goku often uses.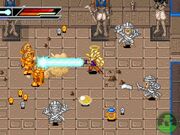 Usage
The Kamehameha is formed when cupped hands are drawn to the user's side and the ki is concentrated into a single point between the cupped hands (and the hands must be really close), however in the manga, there aren't any energy spheres in user's hand. The hands are then thrust forward to shoot out a streaming, powerful beam of energy. The blast can also be used with just one arm. In most variants, the user utters the word "Ka-me-ha-me-HA!!!" as he/she charges and releases the attack.
Users
Goku
Gohan
Goten
Krillin